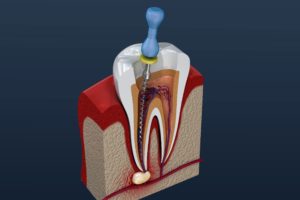 If you are like most adults, you likely visit a general dentist for routine services, like cleanings and checkups. They have the experience and qualifications to prevent, diagnose, and treat a variety of issues to preserve your natural smile. Although they are skilled in their profession, some cases can exceed their qualifications. Instead, you might be referred to an endodontist to have your tooth rehabilitated. While they may offer many of the same services, there are significant differences between a dentist and an endodontist. 
General Dentist VS. Endodontist
You'll find a general dentist around every corner; however, an endodontist is a little harder to come by because less than 3% of all dentists are endodontists. They are specialists who have continued their education beyond dental school by 4 additional years. An endodontist has more knowledge and training in issues relating to the interior of teeth. As a result, they can save diseased and infected teeth using specific procedures, like root canal therapy.
On average, an endodontist performs over 25 root canals weekly, while a dentist only conducts 2. Not only are they more qualified in endodontic procedures, but they are also specialists in pain management because they primarily focus on the pulp.
They have special training to use techniques and technologies that provide more precise and successful results. You won't have to worry about any pain while in the dental chair because they provide virtually pain-free root canals.
How to Choose an Endodontist
If you need an endodontist to save your tooth from extraction, it's important to find the right one to ensure the success of your procedure. Although there are many great options in the area, there are several things to consider before making your selection. Here are a few tips to make the best choice for your smile:
Review Training and Qualifications: Review the endodontist's training and qualifications to ensure they've completed advanced education in the procedure.
Review Professional Organizations: Look for an endodontist that's a member of various professional organizations, like the International Academy of Endodontics or the American Dental Association.
Look for Advanced Technology: Ask the endodontist about any advanced technology they use, like digital impressions, CEREC, or a surgical operating microscope.
Read Online Reviews: You can learn a lot about a dental practice by reading online testimonials from patients.
Location and Convenience: Your procedure may take more than one visit. Choose a location that's close to your home or workplace to make it easy to maintain your appointments.
Affordability: Choose an endodontist that accepts your dental coverage and offers various payment options, like third-party financing.
When it comes to your smile, don't settle for anything less than the best. Invest in the qualifications of an endodontist.
About Dr. Deborah Bishop
Dr. Bishop earned her dental degree from the University of Alabama School of Dentistry before continuing her training in endodontics. She is a proud member of various organizations, including the American Dental Association and the American Association of Endodontists. Contact our office today to request a consultation with Dr. Bishop.