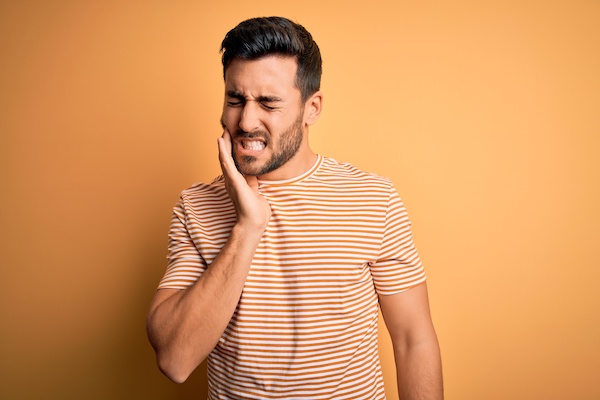 Perhaps the most common thing your dentist hears – after basic questions like how often to brush and floss – is "Are root canals painful?" If you are asking yourself the same question in anticipation of an upcoming appointment, then you'll be happy to read that, while root canals have a bad reputation, the truth is you shouldn't feel a thing. Keep reading to learn more about root canals, including how your dentist keeps you comfortable during this common procedure.
How Root Canals Got Their Bad Wrap
A root canal is a procedure for severe tooth decay, when the interior of the tooth has become severely infected and has possibly abscessed. To perform a root canal, your dentist removes the infected pulp that lives on the inside of a tooth and replaces it with an artificial material, then places a filling or crown on top of the tooth.
In the old days, root canals were certainly less-than-comfortable – because there were no options in anesthesia to numb the sensations, and because dental tools were rudimentary at best. But thanks to advances in dentistry, patients can now relax through their root canal in comfort, perhaps even while listening to their favorite podcast!
Your Sedation Options
Before your root canal begins, you will be able to choose what type of anesthesia you receive. Your options typically include:
Local anesthesia, which numbs the area, and is usually combined with another type of sedation
NItrous oxide, or laughing gas, which relaxes you throughout the procedure
Oral conscious sedation, which provides deeper relaxation using a commonly-prescribed anti-anxiety medication
You and your endodontist or dental professional will discuss the options to help you decide which one is right for you.
Staying Comfortable after a Root Canal
You shouldn't feel anything during the treatment, but you may experience some discomfort after the root canal is complete while your tooth heals from the procedure. Plan to take it easy for the next day or two, allowing yourself adequate time to rest and recover. Taking Advil Liquid Gel (ibuprofen) or Tylenol Rapid Release (acetaminophen) will help reduce any discomfort you may experience.
But, in short, there is nothing to fear from a root canal. If you have been putting off getting this procedure done, talk to your dentist about how they can make you feel relaxed and at-ease during the treatment!
Meet the Endodontist
Dr. Deborah Bishop is an experienced endodontic specialist providing excellent care for patients in and around Huntsville. She earned her specialization through an endodontic residency at the University of Alabama at Birmingham and has stayed up-to-date on the latest in her field by remaining engaged in continuing education. She is committed to ensuring all patients have a comfortable and positive experience while under her care. To learn more about root canal therapy, contact her office at (256) 882-5161.