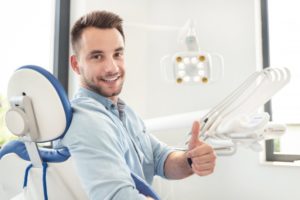 If you're like most people, you cringe just hearing the words "root canal." In fact, about 57% of people are more afraid of getting a root canal than they are of speaking in public! While modern technology has made this procedure incredibly comfortable and safe, most dental professionals would recommend trying to avoid the need for a root canal in the first place. After all, why spend money on a dental treatment when you could simply prevent it? Read on to learn some easy ways to avoid a root canal while also saving money!
Tips for Avoiding a Root Canal
These simple preventive dentistry tips can go a long way toward keeping you from needing a root canal:
Get in the habit of brushing your teeth first thing in the morning and last thing before bed.
Floss at least once a day to remove dangerous bacteria from between your teeth.
Wear a mouthguard if you play sports. Cracking a tooth could create an opening for bacteria to access the center of your tooth and cause infection. For the same reason, you should also wear a nightguard if you grind your teeth when you sleep.
Limit sugary and acidic foods and drinks. They can wear down your tooth enamel and contribute to bacterial growth.
Get two dental checkups a year. Your dentist can often spot the signs of a tooth infection long before you can, stopping it from worsening to the point where root canal therapy is necessary.
If you have dental insurance, it's much easier to prevent the need for a root canal. That is, as long as you know how to take full advantage of your benefits.
How to Make the Most of Your Dental Insurance Coverage
The easiest way to maximize your dental insurance coverage is to see your dentist every six months. After all, the vast majority of dental plans cover two routine checkups a year at little or no cost to you. If you didn't attend these visits, you'd be wasting dental care that you're paying for with your premiums. Not only that, but your dentist can detect cavities and tooth infections early on. This means you can save money (and time) getting more conservative treatments rather than waiting until you'd need a root canal.
These days, root canals are nothing to be afraid of. However, preventing them can benefit your smile and your wallet in the long run!
About the Author
Dr. Deborah Bishop is an endodontist – a dentist who has specialized in saving infected or damaged teeth with root canal therapy. Her experience and dedication to using the latest technology allow her to deliver safe, effective, and comfortable root canals. If you end up needing the procedure in spite of preventive dental care, her team can help you make the most of your dental insurance benefits to minimize your out-of-pocket expenses. To learn more, you can contact her Huntsville, AL practice by calling 256-882-5161.