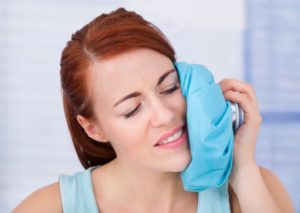 There is nothing fun about having a toothache. The throbbing sensation that it creates quickly lets you know there is a problem that needs to be addressed. What are you to do, though, if a toothache in Huntsville strikes outside of your local dentist's normal operating hours? Continue reading to find out how to ease the pain and get a good night's rest.
Take Over-the-Counter Medication
While the effects are only temporary, ibuprofen (Advil, Aleve or Motrin) may be your best friend when a toothache develops. In addition to quieting the pain, ibuprofen aids in reducing the inflammation. Just be sure to follow the posted dosage instructions.
Another option is to use a numbing gel, which contains benzocaine. Apply a small amount directly to your gums.
Sleep with Your Head Elevated
Keeping your head elevated while sleeping helps to ease the pain by reducing the blood flow to your mouth. This also contributes to improved circulation. Try using a couple of pillows to keep your head raised.
Avoid Acidic, Cold or Hot Foods and Beverages
Citrus fruits, acidic sauces, and hot or cold foods and beverages can contribute to your pain. Thus, it's best to avoid them until you're treated by an emergency dentist. Meanwhile, when you eat or drink, try to only use the side of your mouth that is pain-free.
Perform Thorough Dental Hygiene
Before going to bed, be sure to spend at least two minutes thoroughly brushing your teeth. Then, carefully floss to remove any debris that may be trapped, as it could be contributing to your pain. You can also use a mouthwash that contains alcohol to both disinfect and numb your teeth.
Apply an Ice Pack
In 20-minute increments, apply ice to the outside of your jaw. In addition to reducing any swelling, it will help manage the pain.
Use a Salt-Water Solution
Rinsing with a salt-water solution can be of help, as it works to raise the pH level inside your mouth. Additionally, it assists in removing debris that could attract more bacteria.
Apply Clove Oil
After soaking a cotton ball in clove oil, place it over the painful tooth. It serves as a natural numbing agent, and it has anti-inflammatory and antibacterial properties.
What if You Feel Better in the Morning?
After administering the at-home treatments, you wake-up to a painless mouth. Should you just go about your day as normal? Your endodontist in Huntsville says that could be a big mistake. Once you feel the strong pain sensation associated with a toothache, you can't afford to put off receiving dental care.
Instead, take advantage of the momentary lapse in pain to schedule an emergency dental visit. Therefore, you can receive the treatment you need to get back to feeling better and restore your oral health.
About the Author
Dr. Deborah S. Bishop is a graduate of the University of Alabama School of Dentistry. Following her doctoral studies, she completed an endodontic residency at the University of Alabama at Birmingham. A member of the International Academy of Endodontists, American Association of Endodontists and Alabama Association of Endodontists, Dr. Bishop is an expert in helping patients recover from toothaches. She provides restorative care at her private practice, and she can be reached for more information or to schedule an emergency visit through her website.