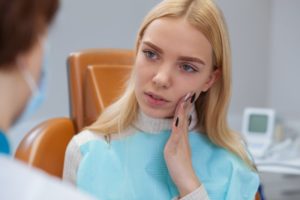 You're experiencing some intense tooth pain in Huntsville, but you're wondering if you should just let it pass. Could this be a warning sign of a dental emergency? If so, what can happen if you continue to ignore it? Read on to get the answers and to discover why it's so important to reach out to an emergency dentist when there's a sudden change in your oral health.
When You Have Tooth Pain, Do This First
The human body contains an intricate circuit of neurons and cells that are always transmitting information back to the brain. This complicated network is called the nervous system, and one of its many jobs is to relay messages when there is damage or infection in any part of the body.
This explains why you feel intense pain when there is a tooth infection. It's your nervous system's way of saying, "Something's not right; pay attention to this area." The best thing to do is to take heed and seek care from a dentist before the problem gets worse.
How to Initially Respond to a Toothache
Because toothaches can range from mild to extremely painful, patients can sometimes make the mistake of ignoring the less acute bouts of discomfort. This is a mistake, as any form of pain should immediately be addressed.
To be on the safe side, treat any toothache in Huntsville as a dental emergency and reach out to a local dentist to schedule a visit. Until you can be seen, here are some steps you can take on your own:
Carefully floss around the pain site to make sure there is no food lodged.
Rinse your mouth with a saltwater solution to neutralize the oral bacteria.
Take ibuprofen to temporarily quiet the pain.
Apply ice to the outside of your jaw to reduce any swelling.
Why You Should Never Ignore a Toothache
If your tooth pain is the result of an infection, ignoring it could lead to the permanent destruction of the ligaments and bone that provide support at the root level. Thus, the tooth could dislodge. The infection can also spread to other parts of the body to cause life-threatening problems.
The Typical Treatment for a Toothache
Most toothaches are the result of an infection that has traveled to the sensitive parts of the tooth. In such a case, a basic filling won't suffice for restoration.
The typical treatment is root canal therapy, which involves an Endodontist in Huntsville making a small incision to gain access to the decayed tissue, removing it and cleaning the area, then filling and sealing the tooth. The next step is to cap the tooth with a protective covering until a permanent crown is fabricated, which will be added at a second appointment.
If you're experiencing a toothache, look for a practice that offers same-day emergency dental care. The sooner you take action, the quicker you can get relief from your pain and have your oral health restored.
About the Author
Dr. Deborah Bishop earned her dental degree from the University of Alabama School of Dentistry. After graduating, she went on to complete her endodontic residency at the University of Alabama at Birmingham. A member of the American Association of Endodontists, the International Academy of Endodontists and Alabama Association of Endodontists, Dr. Bishop treats toothaches and other dental emergencies at her private practice. She can be reached for more information or to schedule a visit through her website.