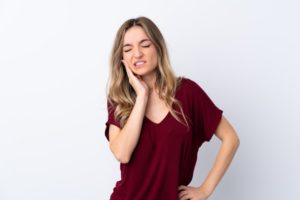 You're enjoying a delicious, crispy cookie or another relatively hard food when suddenly — ow! You feel a sharp pain in your tooth. You hope the pain goes away, but as the minutes and hours wear on, the problem only seems to get worse. You suspect the tooth is cracked, and you might dread the idea of going to the dentist because you do not want to undergo an extraction. Fortunately, in most cases, it is possible to save a cracked tooth via root canal therapy. Let's discuss the importance of this treatment and how it can work to preserve your precious smile.
Dangers of a Cracked Tooth
A cracked tooth might seem like it's just a painful nuisance, but it is actually a serious problem that can have far-reaching consequences. When the tooth's outermost layer (the enamel) fractures, the inner layers of the tooth become vulnerable to infection and decay. The longer you go without treatment, the worse the situation becomes. An infected, cracked tooth can cause a monstrous toothache and even cause infection in the nearby gum tissue and bones. In some cases, the bacteria from an infection can even cause systemic illness and life-threatening complications.
Treating a Cracked Tooth
As soon as you begin to suspect that you have a cracked tooth, you should get in touch with a local endodontist, rather than a general dentist. An endodontist specializes in treating the innermost chamber of the tooth, its pulp. After they examine you and use imaging equipment to assess the situation, they may recommend that you undergo root canal therapy.
During the procedure, the endodontist cleans out the damaged tissue from inside the tooth. Then, they fill in the tooth with a special material to help it maintain its structure. Later, a crown may be placed on the tooth to give it an extra layer of protection. Contrary to popular ideas about root canal therapy, it is actually a very comfortable treatment that is designed to relieve pain, not cause it.
After you recover from your treatment, your tooth will once again become a functional, pain-free part of your smile.
Can All Cracked Teeth Be Saved?
Whether or not your cracked tooth can be saved depends on the extent of the damage. While it is often possible to preserve damaged teeth, extraction isnecessary in some cases. The sooner you seek treatment, the more likely it is that root canal therapy will be able to help you maintain a complete smile.
A cracked tooth is a dental emergency! Fortunately, your local endodontist is ready to leap into action to relieve your pain and get your oral health back on track.
About the Author
Dr. Deborah Bishop is an experienced endodontist in Huntsville, Alabama. She is a member of the American Association of Endodontists, the International Academy of Endodontists, and other prestigious organizations. She uses her experience, skill, and advanced technology to treat cracked teeth and other problems that affect the teeth's pulp. To learn more about Dr. Bishop and her services, contact our team at 256-882-5161.