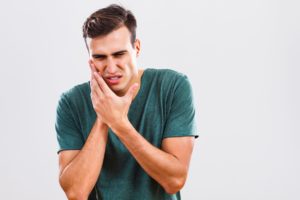 You're treating yourself to some nice crunchy chips after a long day of work. You're thoroughly enjoying yourself when suddenly, something feels a whole lot crunchier than it should. Curious, you spit out your chips into your hand and notice that part of your tooth has broken off! What should you do? Can you treat a fractured tooth at home? Read more to find out.
How Can You Care for a Fractured Tooth at Home?
First things first, you should call your dentist and schedule an appointment to try and fix your tooth. If you wait much longer, your chances of developing a tooth infection or an even more damaged tooth increase with time. There are a few things you can do in the meantime, though.
For tooth pain, take an over-the-counter pain reliever like acetaminophen or ibuprofen as needed. Rinsing your mouth out with saltwater may also help to relieve your discomfort.
If the tooth has a sharp or jagged edge, use a piece of sugar-free chewing gum to cover it up so that it doesn't irritate the soft tissues in your mouth. If you must eat, stick to soft foods like yogurt. Avoid chewing on the side of your mouth with the broken tooth.
How Can Your Dentist Help?
Treatment for a fractured tooth will depend on the extent of the damage. If only a small portion of the enamel has chipped off, your dentist may be able to remedy the situation with a filling. For more serious enamel chipping, your dentist may recommend placing a dental crown. A crown is a tooth-shaped cap that slips over a tooth to protect it from further damage and make it look good as new.
Sometimes, more than just a little bit of enamel breaks off. The center of the tooth containing nerves and blood vessels, also known as the dental pulp, might become exposed, making it more likely to contract a painful bacterial infection. In that case, you might need root canal therapy.
During a root canal, your dentist or endodontist will remove the infected pulp, clean the area inside the tooth, seal it up, then protect the weakened tooth with a filling or crown. Although root canals have a reputation for being painful, they're actually not. In addition to relieving your pain, most patients report they feel not that different from getting a cavity filled.
If your tooth winds up getting chipped or fractured somehow, call your dentist first thing. They'll know just what to do to fix your smile.
About the Author
Dr. Deborah S. Bishop is an endodontic specialist in Huntsville, AL, which means she has undergone special training in treating issues relating to the inside of the tooth, like root canals. She earned her Doctor of Dental Medicine at the University of Alabama School of Dentistry. She then attended an endodontic residency at the University of Alabama at Birmingham. If you find yourself with a chipped tooth, don't hesitate to contact Dr. Bishop right away by calling (256) 882-5161.