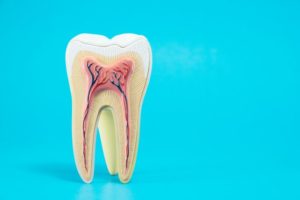 When most of us hear the words "root canal," we think of a very painful and scary procedure. Thanks to modern medicine, though, root canals are no more uncomfortable than getting a simple filling. This is especially true if you receive treatment through GentleWave rather than traditional root canal therapy. Let's take a closer look at GentleWave and how it's a great alternative to standard root canal procedure.
What Does a Traditional Root Canal Entail?
When the dental pulp, or the tissue inside the tooth where the nerves are located, becomes infected or damaged, your endodontist will remove the infected tissue. Traditionally, this is done by creating an access hole in the crown of the tooth, then using special files to remove the decayed nerve and pulp from the inside. Finally, the endodontist replaces the pulp with synthetic material and seals up the tooth with a crown or filling, since much of the natural tooth structure has been damaged. However, GentleWave offers an alternative to this treatment and can preserve more of the tooth structure.
How Does GentleWave Work?
GentleWave utilizes concentrated fluids to disinfect the inside of the tooth. It also uses broad spectrum acoustic waves to clean the entire root canal system, including the microscopic areas where bacteria may linger. Those areas cannot usually be cleaned with the files used in standard root canal therapy. This revolutionary treatment method has transformed the way root canals are done, taking dentists and endodontists across the country by storm, and with good reason.
What Are the Benefits of GentleWave?
There are many advantages of GentleWave over traditional root canal treatment, such as:
Minimally invasive procedure. With traditional root canals, instruments are used almost every step of the way. However, GentleWave uses fluids for several of the steps, which helps preserve more of the tooth structure. Keeping more of your natural tooth intact is almost always a good thing! In addition, many patients have claimed that using fewer files makes the procedure more comfortable.
Deeper cleaning. Because GentleWave is able to reach into deeper recesses of the tooth than files, there is a lower risk of reinfection. The fluids can reach microscopic areas of the root canal that files simply cannot.
One-session procedure. Standard root canals sometimes take more than one appointment to prepare the tooth. Again, there is also a lower chance that the tooth will become reinfected and require additional appointments.
As you can see, GentleWave makes root canals much more effective and comfortable. If your dentist or endodontist says you need a root canal, ask if they offer GentleWave.
About the Author
Dr. Deborah Bishop earned her Doctor of Dental Medicine degree from the University of Alabama School of Dentistry. Following that, she attended an endodontic residency at the University of Alabama at Birmingham. Her Huntsville, AL endodontic practice offers GentleWave technology to make your root canals easy and comfortable. To learn more, contact Dr. Bishop here or call (256) 882-5161.