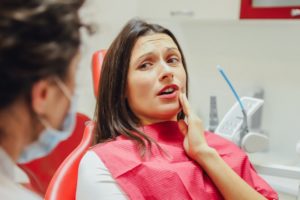 At your club basketball game, you tripped while running and before you knew it, you were falling towards the floor face-first. When you got up, you felt lucky that you didn't knock out or chip your tooth. A small fracture doesn't seem like anything that needs to be immediately addressed, so you decided it's best to ignore it. It can be easy putting a visit with your dentist on the back burner when you're not feeling any pain, but that doesn't always mean that nothing's wrong. Read on to learn how to handle a fractured tooth and what could go wrong when it's left untreated.
What are the Symptoms of a Fractured Tooth?
When your tooth chips or falls out, you can immediately tell. With a fractured tooth, it isn't always that simple. Sometimes the crack isn't visible, so you may have to determine whether or not to visit your dentist based on the symptoms that you're having. Some types of cracks and fractures don't require treatment, but it's best to get a professional's opinion to avoid future problems. So, keep on the lookout for these symptoms:
Discomfort or pain while you're chewing or biting
Swollen gums around the damaged tooth
Suddenly sensitive teeth
Chronic pain
General discomfort around your teeth and gums
If you're experiencing any of these symptoms or general tooth pain, it's best to call and make an appointment with your local dentist as soon as possible to get treatment.
What Problems Could Occur When It's Left Untreated?
Sometimes, a chip or fracture will expose the pulp of your tooth. This portion houses all of your nerves and is incredibly vulnerable without the protection of your enamel and dentin. Because of the damage, harmful oral bacteria could easily penetrate and infect the nerves and result in a severe toothache. When this happens, it can result in you needing an invasive treatment such as root canal therapy to help ease your pain and save your tooth. The best way to prevent this in the first place is to immediately visit your dentist after you've experienced oral trauma.
How Can Your Dentist Help?
If the fracture is small and doesn't cause any discomfort, your dentist may decide that treatment isn't necessary. Some other options that can help repair the tooth so it doesn't get infected include:
Using a filling or crown to protect the tooth from bacteria
Repairing the fracture with dental bonding
If there is a piece of your tooth missing, gluing it back on
These solutions can help you avoid complications down the road and save you from experiencing increased pain, swelling, sensitivity, and bad breath. If the tooth is infected and your dentist suggests root canal therapy, there's no need to worry. This treatment is relatively painless and will make you feel better.
If you experience any kind of dental trauma and symptoms following the event, your best bet is to visit your dentist as soon as possible so they can professionally diagnose your problem and provide you with the treatment you need. Putting this off could only cost you more money and time later on, so it's best to be proactive!
About the Author
Dr. Deborah Bishop uses the latest techniques and technology in her field so she can give her patients precise and reliable care. She is an active member of 10 professional organizations, which allow her to sharpen her skills and provide her patients with the highest quality of advanced treatment. She was also the first endodontist in Alabama to utilize a surgical operating microscope in her dental practice. For questions or to schedule an appointment, visit her website or contact 256-882-5161.