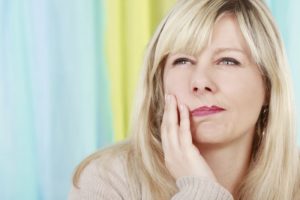 Dealing with tooth pain is one the least desirable things to experience. It can put an end to a fun day or hinder your ability to carry out your normal functions. If you're dealing with discomfort, the first thing you want is relief. One of the keys to recovering from and preventing tooth pain in Huntsville is to get to the source of the problem. As you read on, your dentist weighs in with the common causes of dental discomfort and a means of treating severe cases.
What's Causing Your Pain?
By getting to the source of your dental pain, you can recover faster and prevent problems in the future. Here are the most common causes:
Cavities – Also referred to as dental caries, cavities are the leading cause of tooth pain. They are small holes in the enamel of your teeth that are caused by leftover food particles and bacteria that form plaque. Over time, the plaque can penetrate to the sensitive dentin area and cause pain sensations to be felt.
Broken Fillings – In most cases, having a failed dental filling is considered a dental emergency and can leave the more sensitive parts of your tooth exposed to food particles and bacteria. The result can either be moderate pain or more intense bouts of discomfort if the tooth becomes infected.
Cracked Tooth – A fall or blow to the face can leave you with a cracked tooth. This too is considered a dental emergency, and depending on the severity of the fracture, you may experience moderate to severe pain.
Treating Dental Pain
One way to stop acute dental pain and restore your tooth's full function is to have a root canal procedure done. In cases where cavities have progressed to a point where the tooth is severely damaged and the pulp area is infected, this process is vital for restoring your oral health.
Root canals are also used to restore badly cracked teeth. This form of treatment provides a way to salvage a tooth as long as the problem is addressed early enough.
How the Root Canal Procedure Works
If a toothache in Huntsville or some other condition that compromises the integrity of your tooth is the source of your pain, then your dentist will make an incision to get to the decayed tissue deep within the tooth. The area will be cleaned thoroughly and packed with a special compound called gutta-percha. The final step is to seal the tooth and place a temporary crown.
After the permanent crown is fabricated by a trusted lab, you'll return to your dentist to have it placed. When you leave the office, you'll be fully restored with no more troubling pain.
To learn more about the causes of dental pain and the ways to address it, reach out to your local dentist to schedule a consultation.
About the Author
Dr. Deborah Bishop is a graduate of the University of Alabama School of Dentistry and followed that with an endodontic residency at the University of Alabama at Birmingham. A member of the Southern Endodontic Study Group, Dr. Bishop combines her years of experience with an ongoing thirst for more knowledge to provide patients with the best oral health possible at her private practice. She can be reached for more information through her website.