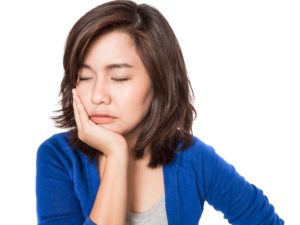 Is a throbbing toothache keeping you awake at night or making it difficult to focus during the day? Although you may think that it's normal from time to time, a toothache is never a good sign. In fact, it is usually an indicator of a large underlying problem that needs immediate care, like an infection. While you may be tempted to wait to see if the pain goes away, it could lead to the loss of your tooth. Instead, if you have a toothache in Huntsville, it's best to see an emergency endodontist to make sure you don't need a root canal.

Why Does My Tooth Hurt?
It's estimated that 55% of adults have had a toothache in the past 6 months. Often, the discomfort is due to a minor issue, like weakened enamel or a small cavity; however, it may also be the result of a serious complication—an infection.
When a cavity has been left untreated, it will eventually reach the inner-most layer of your tooth, known as the pulp. This will cause the soft tissue to become inflamed and infected, leading to serious pain. The discomfort isn't the only concern. If it's not treated quickly, it could result in needing to have your tooth extracted. In addition, the infection can spread to surrounding teeth and into your bloodstream.
Do I Need an Emergency Root Canal?
It's best to see your endodontist in Huntsville if you experience:
Pain when biting, chewing, or applying pressure to the tooth.
Sensitivity that lingers after your tooth has been exposed to temperature changes.
Painful gums that occur with tooth pain or sensitivity.
Your dentist will perform a visual examination and take diagnostic images to detect any areas of concern that may be brewing beneath the surface. Based on their findings, they may recommend an emergency root canal.
This is a common endodontic procedure that can save your tooth from needing to be removed. Although they have a bad reputation for being painful, new advancements in dentistry now make them no worse than a traditional filling.
What Can I Expect During a Root Canal?
During the procedure, a local anesthetic will be used to numb the tooth. Special dental tools remove the areas of damage while opening the crown to expose the pulp. The pulp will be extracted, and your tooth will be sterilized prior to being sealed with a material called gutta-percha. In most cases, a custom-made dental crown will be placed over your tooth to protect it from future damage while reinstating its health and function.
Don't Wait! Call Your Dentist
If you have a damaged or infected tooth, time is of the utmost importance. Do not wait to see if your toothache subsides. Contact your emergency endodontist right away.
About Dr. Deborah Bishop
Dr. Deborah Bishop uses the latest technologies and techniques to ensure effective endodontic services to restore the health of her patients' smiles. Due to her extensive training and numerous accreditations, you can rest assured that you are in good hands. If you have a toothache, do not wait. Contact our office today to schedule an appointment.