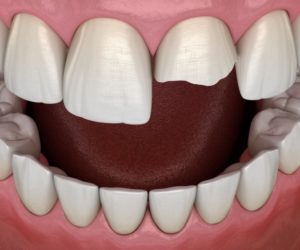 Your teeth are protected by your enamel, which is the hardest substance in your body. Unfortunately, it isn't indestructible, and your teeth can't regenerate if they are compromised. While you take precautions to protect your smile from damage, a chipped tooth can occur without any warning. If you have a fractured tooth in Huntsville, don't panic! Here's what you should do to save your tooth.
A Chipped Tooth is a Dental Emergency
Even if you aren't in any pain and the chip doesn't seem significant, you still need to see an emergency dentist. If the break or fracture isn't treated, bacteria can reach the inner layers of your tooth, causing a serious infection that can spread to surrounding tissues and into your bloodstream. Not to mention, your tooth's structure will be weakened, leaving it vulnerable to additional chips and cracks. It's best to contact an emergency dentist or endodontist in Huntsville while following 4 tips:
1. Rinse Your Mouth
Rinse your mouth with warm water to remove any debris that may be trapped, like fragments of your tooth. You'll also get a better look at your tooth to access the situation. If the break is large or you're in pain, it's best to see your dentist immediately; however, if it's only a small chip, you can often wait a day or two.
2. Control Any Bleeding
Not all broken teeth will bleed, but it is common. You'll need to apply pressure to the tooth by biting on a clean gauze pad. The pressure will stop the bleeding and lower the risk of swallowing blood. If you can't stop the bleeding at home, head to the closest emergency room.
3. Preserve Your Tooth
If your tooth was knocked out of position, gently push it back into place and bite on gauze to prevent it from moving. A tooth that has been fully displaced from its socket should be rinsed with cool water before trying to reinsert it. If you can't get it back into the socket, place it in a cup of milk or water to preserve it.
4. Control Pain and Swelling
Any pain caused by a chipped tooth in Huntsville can be treated with an over-the-counter pain reliever or anti-inflammatory. You can also apply a cold compress to the outside of your face to numb the area. You'll want to avoid chewing or biting with your tooth until after it has been repaired.
Contact Your Dentist Right Away
Don't wait until it's too late to save your tooth. If you have a dental emergency, like a chipped tooth, contact your dentist right away. They'll make the stressful situation easier.
About Dr. Deborah Bishop
Dr. Bishop earned her dental degree at the University of Alabama School of Dentistry and has continued her training in many specialties, like endodontics. She offers emergency services to restore healthy smiles using effective, modern solutions, like tooth-colored crowns and dental bonding. If you have a broken tooth, contact our office right away for an appointment.